Our colleagues crowned World Champion
What a week! Our collegues just became offshore World Champions in the biggest fleet of the event, class C. Also Team Beau Geste came out on top. This team with their Botin 52 spent the 2,5 month prior to the event preparing at our yard.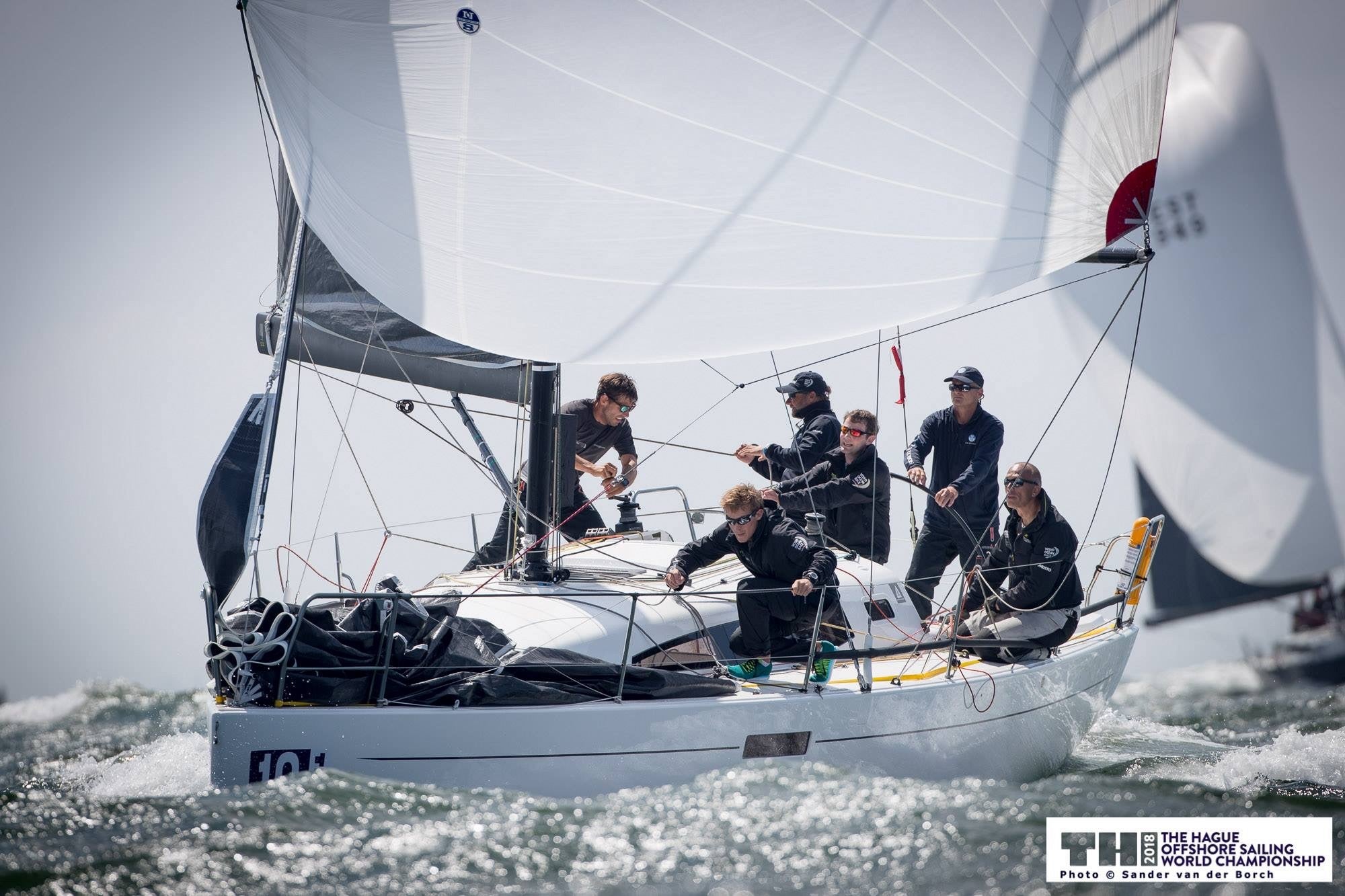 Article by Sailing Anarchy
Who even knew that there was a J-112E? Now we do! And that is how you sail a pole boat downwind in breeze!
The Hague Offshore Sailing World Championship started on Monday for the fleet of 90 yachts from 15 nations. The fleet represented a diverse cross section of teams from around the world comprised of seasoned champions, newcomers and older production cruiser/racers, as well as brand new custom racing designs being sailed by professional crews and Corinthian amateurs.
The championship was sailed under a unique regatta/ scoring format. Each boat had a mandatory IRC/ ORC rating. And, for the ORC scoring, there were four winds ranges to select from. The scores of each race were a combination of both your IRC and ORC handicap finish positions. Then, the regatta format started with one long offshore race of 135nm, with a scoring gate at 60nm for Race 1 score, and the finish of the offshore counted as Race 2- for a 2x score that could not be thrown out. Thereafter, it was four days of seven (7) windward-leeward inshore races right off the beaches of The Hague.
Class C had forty-nine boats from twelve nations across Europe; it was by far the largest most competitive class in the event with numerous World, European, and Olympic champions aboard many boats. Starting so many big boats on one starting line proved to be a challenge with so many pro's fighting for every millimeter of advantage! Most races started off with at least one general recall, and often more with the "U" flag flying.
After starting themselves off in the depths of despair on the first day, posting a 1st & 40th as their first scores and starting out the regatta in 12th place, Gideon Messink's team on the J/112E J-LANCE 12 (Nic Bol, Ko Stroo, Rick Bomer, Yves de Block, Martin Rinckes) staged the comeback of the century to climb back up the leaderboard and win an epic battle in the last race to be crowned World Champions. What's more, they did it sailing with only six (6) crew versus all their top competitors that sailed at maximum weight and bodies (8-9 people)! Despite their self-imposed handicap for righting moment, sailing in at least six races where crew weight on the rail mattered, the J-LANCE 12 team never lost their composure.
They sailed smart and fast, and completed the regatta with a 1-40-4.5-1-3-5-10-3-(43) tally for 66.5 pts net and a five-point margin of victory. Perhaps most remarkable about their performance was the fact the J-LANCE 12 team of mostly Dutch sailors had only one weekend of training on the boat, and all of them were brand new to the boat!
"My team has been doing the math," said Messink, "we needed to make sure the Swedish team didn't score a 17 or higher. We still had the room to discard a bad result since we've been sailing top five for the past week of racing. The offshore race was not discardable, and the third place team couldn't get to us anymore. So, it was a real battle with the Swedes. We do salute these guys [Pro4U] and all in this tough class for having sailed a great series, and thank the city of The Hague, the organizers and all who helped make this a great event."
More on the event here.
Photocredits: Sander van der Borch